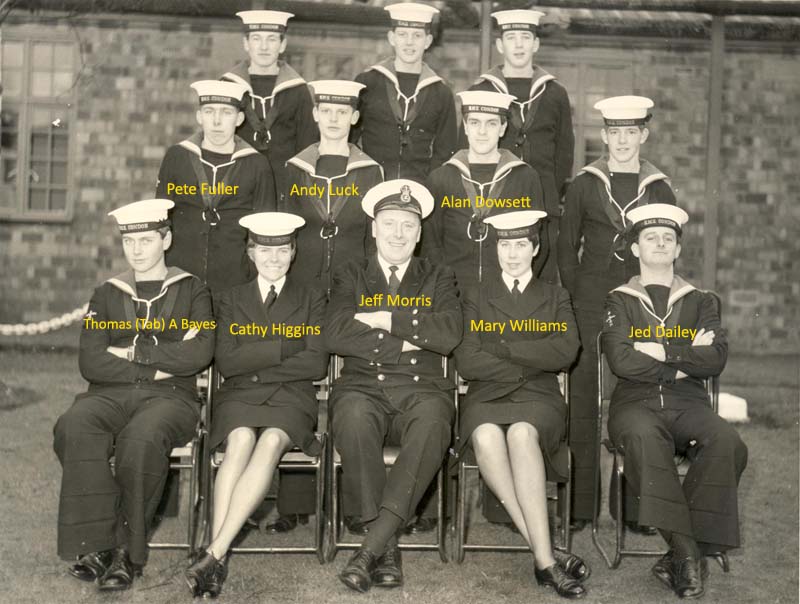 Keith Dugan has asked me to publish this photograph to see if anyone recognises themselves or knows (and can name) any person in this class photograph. Also, do you know the Instructor or the date it was taken?
Update from Alexander Muir (17.06.2013)
Alexander has emailed to say he thinks the Wren on the right is Mary Williams who worked on the SAR as part of Station Flight although he doesn't mention which base.
Update from Alan Dowsett (22.05.2013)
Alan who is in the photo contacted me to rectify two errors of incorrect identity (Pete Fuller & Jed Dailey) and to identify himself and Andy Luck.
Update from Catherine Davies (Nee Higgins) (5.3.2013)
Thanks to Catherine Davies who has been in contact and has given me one correction and has identified herself, Thomas Bayes and the other Wren "Mary". She also let me know it was taken in the winter of 1967. The photo can also be seen on Catherine's Blog at http://www.pilgrimpath.net/?p=459
Update from John Carp (ex POAEM(WL))
Looking at the photo I am almost certain that the CPO is Jeff Morris, he was up at Condor and moved down to Daedalus when training transferred. I knew Jeff when we were both part of the Exped Training Section, Jeff was a instructor and I was the storeman; I bumped into Jeff again at Lee whilst on a Weapons Conversion Course in 1980, he was then a Civilian Instructor.

What do we know? Well the old style Bell-bottoms were replaced in 1977 by Flared trousers; the person bottom row on the right is wearing an AH(1) badge so must be a retread changing Branch. Keith seems to think the person in the middle row, second in from the right was on 800 Sqdn about 1970-1972. HMS Condor became a Royal Marine Base on 4th September 1970.
How did he get this photo? it somehow ended up in his drawer at the time he finished working at HMS Sultan; but he doesn't know how.
Click on the image to see an even larger copy of the photograph, you will have to use the mouse to assist in seeing the whole image.
All answers to Phil Glover at philglover@faaba.co.uk