CAPTAIN ERIC 'WINKLE' BROWN CBE DSC AFC RN 1919 - 2016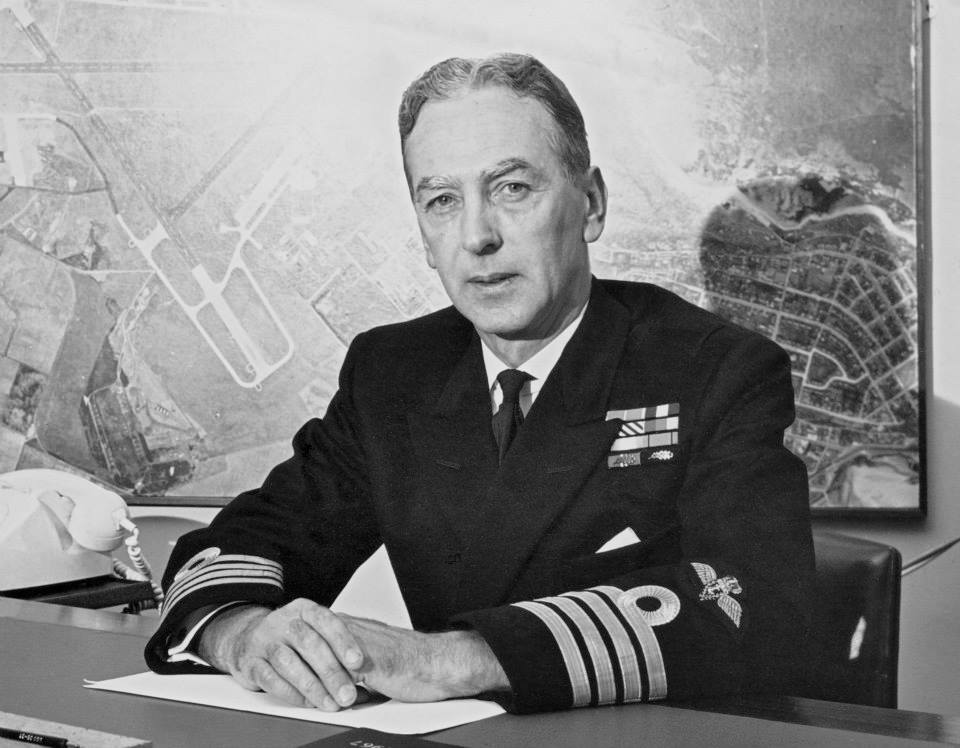 Captain Eric 'Winkle' Brown CBE DSC AFC a former Commanding Officer of HMS Fulmar in the late 1960's has Crossed the Bar. He passed away on Sunday 21st February at the age of 97 after a short illness. The First Sea Lord, Admiral Sir George Zambellas said "The Fleet Air Arm may have lost one of its finest and best known pilots, but British Aviation has lost something even greater - the most accomplished test pilot of his generation and perhaps of all time and a huge advocate and supporter of military aviation and the Nation's Naval Aviation Heritage."
Tributes poured in for the World's Greatest Test Pilot and Fly Navy Heritage Trust Ambassador Captain Eric 'Winkle' Brown CBE DSC AFC who recently Crossed the Bar. A passionate supporter of the Nation's Naval Aviation Heritage; Sue Eagles, Communications Director of the Fly Navy Heritage Trust said he was a great friend to the Trust and the Fleet Air Arm and will be deeply missed. Sue said "Winkle's" legendary career as a Naval Test Pilot, his services to aviation and the country has ensured that he was hailed a national hero. "As a Test Pilot he pioneered many new technologies that gave the UK aviation industry a world leading reputation. We have not only lost a truly remarkable man and dear friend but a last link to a vital era in our nation's history"
http://www.telegraph.co.uk/news/obituaries/12167611/Captain-Eric-Winkle-Brown-obituary.html
Captain Eric 'Winkle' Brown CBE DSC AFC Royal Navy, 21 Jan 1919 - 21 Feb 2016
COMMANDER GEOFFREY RAYMOND HIGGS AFC RN 1925 - 2015
Geoffrey R. Higgs who passed away on the 8th November 2015 was eighteen when he volunteered for the Fleet Air Arm as a pilot. Training in Canada began a Naval flying career that spanned thirty-years. Front line squadron service embarked on aircraft carriers, was followed by qualification as a flying instructor. Selection for the Empire Test Pilots School at Farnborough and qualification as an experimental Test Pilot changed the direction of his naval career. In all Geoff Higgs flew nearly one hundred types of aircraft and carried out close to a thousand deck landings. Initial flight testing of a number of new naval aircraft, as well as research flying in support of the development of aircraft such as the English Electric Lightning and Concorde added to a unique career.
In 1965 as CO of 'C' Squadron he also took 3 Buccaneer Mk 2 Aircraft to Naval Air Station Patuxent River in Maryland, NAS Pensacola in Florida and the Carrier USS Lexington for Hot weather Trials. Geoffrey also penned the book "Frontline & Experimental Flying with the Fleet Air Arm". See Books page.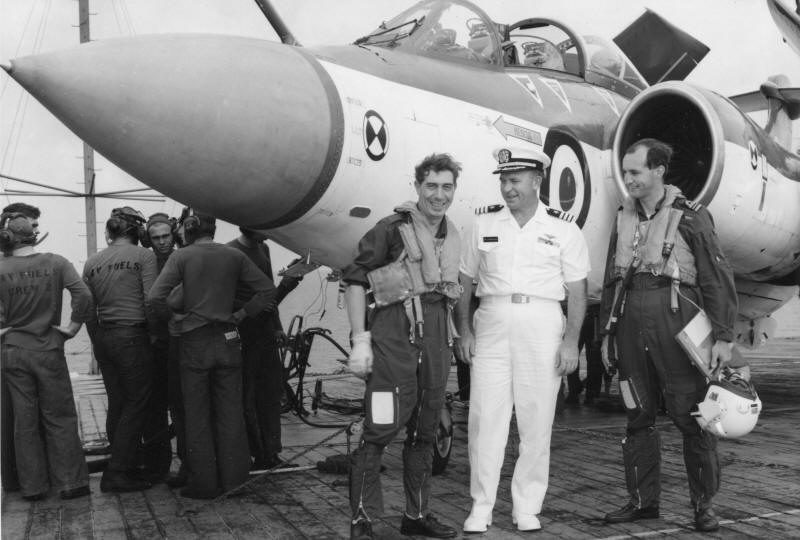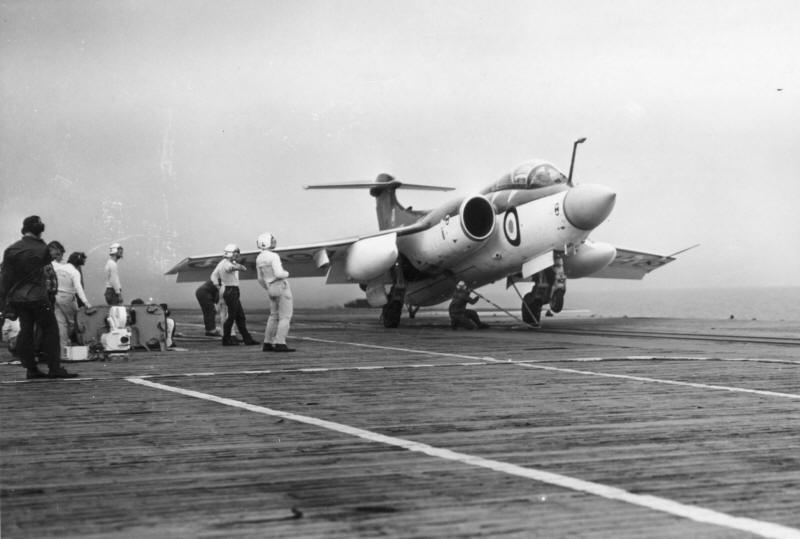 Commander Geoffrey Higgs AFC RN, 25 September 1925 - 8 November 2015
VICE-ADMIRAL SIR EDWARD ROSEBERRY ANSON, KCB RN 1929-2014
Vice-Admiral Sir Edward Rosebery Anson, KCB, who died 22 September, 2014, was a naval aviator who flew sorties over Korea and was instrumental in the introduction of the Buccaneer Aircraft. He was descended from George Anson, (Lord Anson), 1st Lord of the Admiralty in the Seven Years' War (from whom descends the Earls of Lichfield and the Anson baronets).
"Ted" Anson was a test pilot on the high-speed, low-level Buccaneer bombers who became the captain of Ark Royal. In 1961, after two years on secondment as a Test Pilot with Blackburn Aviation, Anson returned to the Navy as senior pilot of 700Z Naval Air Flight, the Navy's Buccaneer trials unit, based at the RNAS Lossiemouth.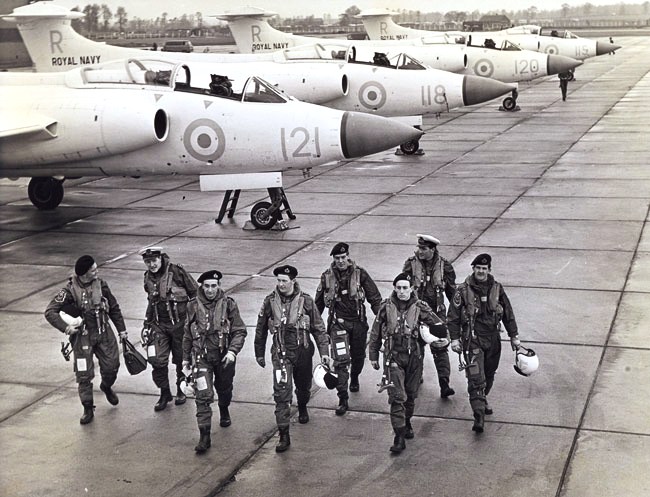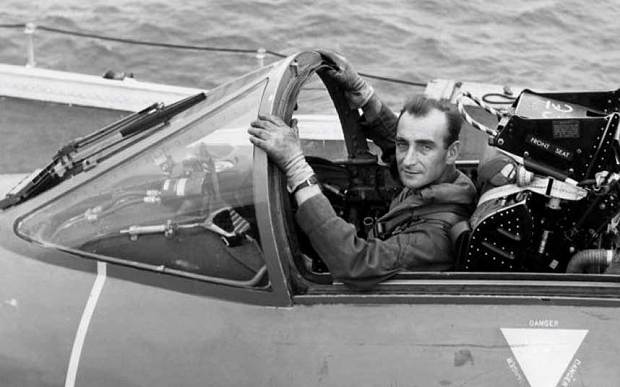 More info: http://www.telegraph.co.uk/news/obituaries/11210947/Vice-Admiral-Sir-Edward-Anson-obituary.html
Vice-Admiral Sir Edward Anson, born May 11 1929, died September 22 2014
REAR ADMIRAL ROGER DIMMOCK CB 1935 - 2014
Rear-Admiral Roger Dimmock has died aged 78 on May 26th 2014; he had a narrow escape when the aircraft he was flying malfunctioned and crashed at the Farnborough Air Show in 1958. In 1964-65 he was part of the squadron of Scimitars which experimented in air-to-air refuelling, and in 1969-70 he flew the Blackburn Buccaneer low-level bomber in 801 Squadron. From 1971-1973 he was the Senior Naval Officer at RAF Honington and he later commanded RNAS Culdrose and HMS Hermes in the eighties and went on to became Flag Officer Naval Air Command (1987-1988).
http://www.telegraph.co.uk/news/obituaries/10978986/Rear-Admiral-Roger-Dimmock-obituary.html
Rear Admiral Roger Dimmock, born May 27 1935, died May 6 2014
ADMIRAL SIR RAYMOND LYGO KCB RN 1924 - 2012

Admiral Sir Raymond Lygo, who died aged 87 on the 7th March 2012, was a successful Fleet Air Arm pilot during WW2 and later in his career was the Acting First Sea Lord. In his second career he was chief executive of British Aerospace and played a small but key role in the "Westland affair" of 1986, which brought down two ministers and, very nearly, the government of Margaret Thatcher.

He commanded Ark Royal from 1969 to 1971, becoming a national figure after he was exonerated by an official board of inquiry, following a collision with a Soviet destroyer. The Soviet Kotlin class ship had been aggressively shadowing Ark Royal during a NATO exercise, but cut one manoeuvre too fine. Lygo avoided cutting her in half only by going full astern, but seven Soviet sailors were thrown into the sea by the collision, and two were killed.

Following his time on Ark Royal he was appointed Director-General, Naval Manpower and Training and then 1975 - 1978 he was Vice Chief of the Naval Staff.

http://www.amazon.co.uk/Collision-Course-Lygo-Shoots-Back/dp/1857765141

http://www.telegraph.co.uk/news/obituaries/military-obituaries/naval-obituaries/9161428/Admiral-Sir-Raymond-Lygo.html

Memorial Service for Admiral Sir Raymond Lygo KCB

A Memorial and Thanksgiving Service for the life of Admiral Sir Raymond Lygo, KCB, was held in Chichester Cathedral on Thursday 21st June 2012. The service was conducted by the Reverend Canon Dr Anthony Cane, Chancellor, and was attended by a congregation of over 250 of his family, friends and official representatives from the Royal Navy, Naval Associations and many other organisations.

Sir Raymond's Orders and Decorations were borne to the alter accompanied by the Royal Navy Colour escorted by a Royal Naval Colour Party of Officers and Ratings from HMS Collingwood and HMS Nelson. Buglers from the Band of the HM Royal Marines, Collingwood sounded the Alert and played Sunset. The Standards of the Fleet Air Association and HMS St. Vincent Association were also present.

Pictures from the Memorial Service provided by Ray Whitehouse, Chairman & Secretary, Royal Navy Photographers Association.

Admiral Sir Raymond Lygo, born March 15 1924, died March 7 2012
REAR-ADMIRAL IAN ROBERTSON CB DSC RN 1922 - 2012
Rear-Admiral Ian Robertson has died aged 89 on the 22nd February 2012; he was decorated as a young pilot and became one of the few RNVR officers to reach flag rank. In 1970, he was given command of the strike carrier Eagle for its Final Commission, the government had already taken the decision to cut the Navy's carriers, and announced that this would be Eagle's last. After HMS Eagle Ian Robertson was promoted to Rear-Admiral and appointed the Admiral Commanding Reserves and Director General of Naval Recruiting, he retired in 1974 at the relatively young age of 51.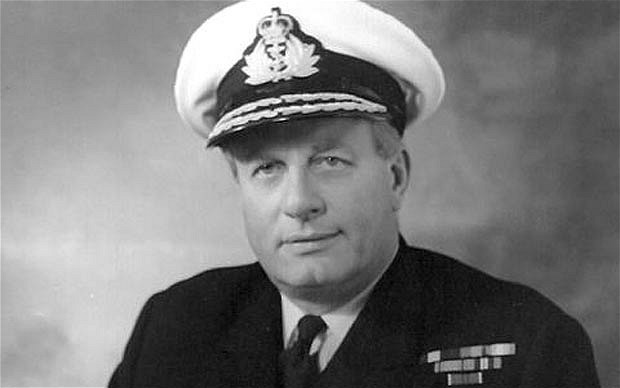 For more info use this link to the article in the Daily Telegraph
Rear-Admiral Ian Robertson, born October 21 1922, died February 22 2012
LT CDR PETER TWISS OBE DSC RN 1921 - 2011
Peter Twiss who passed away on August 31st 2011 was a Fleet Air Arm pilot who became company Test Pilot for Fairy Aviation in 1946 after leaving the Royal Navy. In March 1956 he became the first pilot to exceed 1000 mph in level flight (1132 mph in a Fairy Delta FD2). The previous record was held by American "Colonel Horace Hane", who recorded 822.26 mph in a Super Sabre in late 1955.
In 1960 after Fairy Aviation was sold to Westland Helicopters he joined Fairy Marine and was responsible for development and sales of day-cruisers. He also appeared in the film From Russia with Love driving one of the company's speedboats. For more information try these links
FlightGlobal Archive Wingweb Article Wikipedia Article Telegraph Obituary
Lieutenant Commander Peter Twiss, born July 23 1921, died August 31 2011
COMMANDER ROBERT MICHAEL 'MIKE' CROSLEY DSC & BAR RN 1920 - 2010
Mike Crosley passed away on June 20th 2010 aged 90. He joined the Fleet Air Arm in 1940 during WW2 and survived the sinking of HMS Eagle whilst on Malta Convoy duty. He flew various aircraft types from the Sea Hurricane to the Seafire and was involved from the Mediterranean to Normandy and from Norway to the Pacific when he was CO of 880 Squadron aboard HMS Implacable.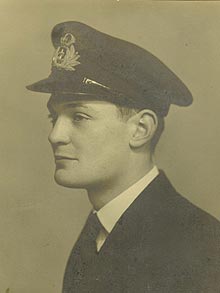 After the war Mike Crosley joined No 6 Empire Test Pilots' Course, and left the Navy to test Short's flying boats under development in Belfast. On the outbreak of the Korean War he rejoined the Navy, helping to train new pilots and flying 75 missions over Korea from the carrier Ocean.
He wrote pilots' notes for a range of aircraft, which he flew to their limits, and was awarded the Queen's Commendation for Valuable Services in the Air. In 1954-55 he was commanding officer of 813 Squadron, flying the Wyvern from the new Eagle.
In 1958 Crosley was promoted commander and returned to test flying at Boscombe Down, making the first deck landings of the Buccaneer low-level bomber.
http://www.telegraph.co.uk/news/obituaries/military-obituaries/naval-obituaries/7907413/Commander-Mike-Crosley.html
https://www.scotsman.com/news/obituaries/obituary-commander-mike-crosley-1-820835
Commander Mike Crosley, born February 24 1920, died June 20 2010
LT CDR STEPHEN ANDREW (SAMMY) MEARNS DSC RN 1921 - 2009
Lieutenant-Commander Sammy Mearns, who died on 3rd May 2009 aged 88, was a busy and aggressive pilot in the last 18 months of the Second World War, but later became a Fleet Air Arm legend for pinching a three-ton statue of the Greek goddess Persephone.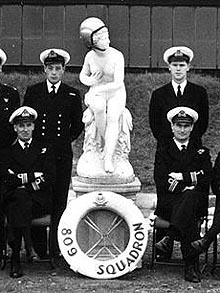 The occasion that made him a legend in the Fleet Air Arm occurred in the 1950s after an intemperate dinner with his squadron. The revellers stole a three-tonne statue of Persephone, the Greek goddess of earth fertility, from the garden of an antique dealer and installed her outside the RNAS at Yeovilton in Somerset. With the cold light of day came the realisation of the trouble that was likely to ensue, so the squadron (with Mearns, as senior officer making the largest contribution) bought the statue for £150. Mearns later presented it formally to the wardroom. In 2003, Persephone caught the eye of a London auctioneer, who recognised the work of the 19th-century sculptor John Warrington Wood. She was sold for £12,000 and the proceeds went to St Bartholomew's, the Fleet Air Arm church in Somerset.
From 1951 to 1952 Mearns took part, as senior pilot of 703 squadron, in the first trials of the British-invented steam catapult. He was only the second pilot to test the machinery successfully, and demonstrated it to the US Navy on board the carrier Perseus in Philadelphia.
https://www.telegraph.co.uk/news/obituaries/military-obituaries/naval-obituaries/5533906/Lt-Cdr-Sammy-Mearns.html
https://www.irishtimes.com/news/pilot-who-escorted-atlantic-convoys-in-second-world-war-1.788889
Lieutenant Commander Stephen Mearns, born March 24 1921, died May 3 2009
CAPTAIN BRIAN YOUNG DSO RN 1930 - 2009
Ex 892 Squadron (Vixen) Pilot Brian Young who passed away on Christmas Eve 2009 was the Captain of HMS Antrim during the Falkland's Campaign, he was also President of the HMS Antrim Association. On April 10 1982, while the Task Force under the command of Rear-Admiral Sandy Woodward was still assembling at Ascension, Young was given command of Task Group 317.9, which included the destroyers Antrim and Plymouth and the tanker Tidespring; on board were M Company of 42 Commando Royal Marines, the Special Boat Squadron, and the Special Air Service Regiment, under the tactical command of Major Guy Sheridan.
Young, as a former pilot, had the satisfaction of commanding the first ever anti-submarine operation successfully conducted exclusively by helicopters. During the hunt Santa Fe was attacked with depth charges and air-to-surface missiles and badly damaged; on April 25 she was caught on the surface off Grytviken. Brian was famous for his signal to London: "May it please Her Majesty that the White Ensign flies alongside the Union Flag on South Georgia. God Save The Queen."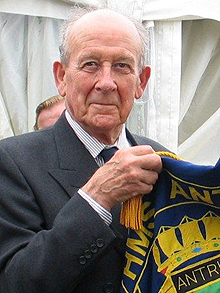 From 1968 - 1970 Brian was Commander Air at RNAS Lossiemouth and from 1970 to 1972 he was Commander Air aboard HMS Eagle. His funeral was on the 12th January 2010 at Holy Trinity Church, Penn, High Wycombe, Buckinghamshire.
https://www.telegraph.co.uk/news/obituaries/military-obituaries/naval-obituaries/6975842/Captain-Brian-Young.html
Captain Brian Young, born September 25 1930, died December 24 2009
LIEUTENANT COMMANDER RODNEY VINCENT (FRED) FREDERIKSEN 1947 - 2009
Ex Sea Vixen (766/893/899), Phantom (892) and Harrier (800) pilot, Lieutenant Commander 'Fred' Frederiksen, who died on the 27th September 2009 aged 62, was an experienced Fleet Air Arm pilot who shot down an Argentine Dagger during the Falklands War.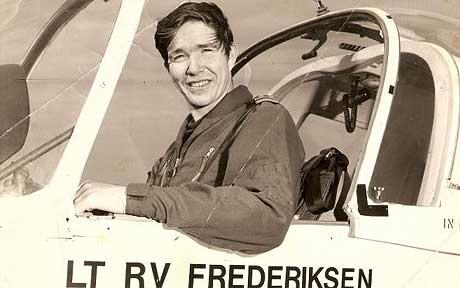 Fred flew Sea Vixen's with 766, 893 & 899 Squadrons before transferring to the Phantom jet fighter-bomber. He was a pilot with 893 & 899 NAS flying from the carriers Hermes & Eagle in the early 1970s, attended the central flying school at RAF Little Rissington in 1973, and subsequently taught flying. In 1977 Frederiksen was selected for No 36 Fixed Wing Course at the ETPS and for the next five years, until the Falklands War broke out, he was a test pilot at Boscombe Down.
With Sea Harrier jump-jets landing on the carrier Hermes in Portsmouth, Frederiksen, who had been testing aircraft at Boscombe Down, inveigled his way aboard as an additional pilot in 800 Naval Air Squadron, under the command of Lt Cdr Andy Auld. A month later he was in the thick of war.
On May 1 Hermes entered the Total Exclusion Zone which Britain had declared around the Falklands, and Frederiksen led a bombing strike by three Harriers on the airfield at Goose Green. After taking his aircraft at wave-top height down the Falklands Sound, Frederiksen flew low over a range of hills and, completely surprising the air defences, destroyed one enemy aircraft as it was taxiing and damaged two others.
All told 15 Harriers sortied and returned that morning, giving rise to BBC reporter Brian Hanrahan's oft-quoted words: "I counted them all out, and I counted them all back."
https://www.telegraph.co.uk/news/obituaries/military-obituaries/naval-obituaries/6685682/Lieutenant-Commander-Fred-Frederiksen.html
Lieutenant Commander Rodney Frederiksen; born April 7 1947, died September 27 2009
REAR ADMIRAL BASIL CHARLES 'GODFREY' PLACE VC, CB, CVO, DSC RN 1921 - 1994

Godfrey Place who passed away on the 27 December 1994 aged 73 was originally a submariner who won the Victoria Cross for his crew's successful attack on the Tirpitz in Kaafiord, Norway during 1943 with a Midget Submarine X7.

Due to issues with retraining as a submariner after his release as a POW

he transferred to the Fleet Air Arm and became a pilot with 801 Squadron flying Sea Fury's from HMS Glory during the Korean war in 1952. From 1963 to 1965 as a Captain he was in command of the new entrants training establishment HMS Ganges. In 1966 he took over command of HMS Albion R07 which formed part of Task Force 318 during Operation Magister (the withdrawal from Aden) in late 1967; during this period he was made Commodore in charge of the task force during a period of absence when Rear Admiral Edward Ashmore had to return home after his daughter was killed in a train crash.

Godfrey Place's last appointments were as Director General Recruiting and Admiral Commanding Reserves; he retired in 1970, when he was appointed CB

https://www.telegraph.co.uk/news/obituaries/military-obituaries/naval-obituaries/8328587/Rear-Admiral-Godfrey-Place-VC.html