AIR-BRITAIN'S LATEST BOOK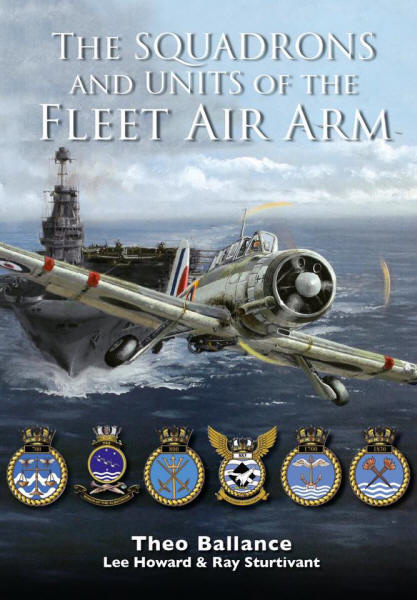 We don't normally advertise books but we think some members will be interested in purchasing this updated book if they missed buying it in 1984 or 1994. Air Britain are offering this book at Members prices to current and former members of the FAA.
The book is now available to order online at
https://www.air-britain.co.uk/actbooks/acatalog/SquadronsUnitsFleetAirArm.html#SID=13

From Air-Britain, news has just reached us of the arrival at Tonbridge of our latest 'heavyweight': The Squadrons and Units of the Fleet Air Arm. Based on the earlier 1984 and 1994 works, this fully updated 512 page book now includes the miscellaneous support and training units and schools that have hitherto gone unrecorded. It also, for the first time, is colour throughout, including the unit badges, and is illustrated with over 800 photographs. Aircraft-capable ships and shore bases are also dealt with, along with comprehensive Battle Honours, Trophies and Awards, helicopter Flights and codes lists not to be found anywhere else, bringing the intervening 22 years since the last book to print for the first time. A must for any military historian or current/former member of the Fleet Air Arm and surely a most welcome stocking filler this Christmas! Cover price £47.50; Air-Britain Member (and current/former FAA on proof of ID) price £35. Current and former members select the "Members" price, on the order form (at the bottom) state 'Non-Member', this will get you the book at the discounted price. (Air-Britain may email you to confirm proof of ID)

Every effort will be made to distribute orders to arrive before Xmas but please get your orders in early.
BOB SNOOK
I have been notified by Richard Snook that his brother Bob has Crossed the Bar today (29th April 2016) in South Australia. Bob was aged 72 and for the past 45 years had lived in Adelaide, he joined HMS Ganges in 1959 and progressed to become an LAM (A/E). He served on various carriers including the Centaur on Sea Vixens and HMS Eagle where he was a part of the maintenance team on Buccaneers of 800 Squadron from 1967 to 1969, during and after its Far East Tour. He was possibly on 736 Squadron or NASU at RNAS Lossiemouth before joining 800 and had served at HMS Heron caring for the Swordfish, he even managed a stint at MARTSU at Lee on Solent.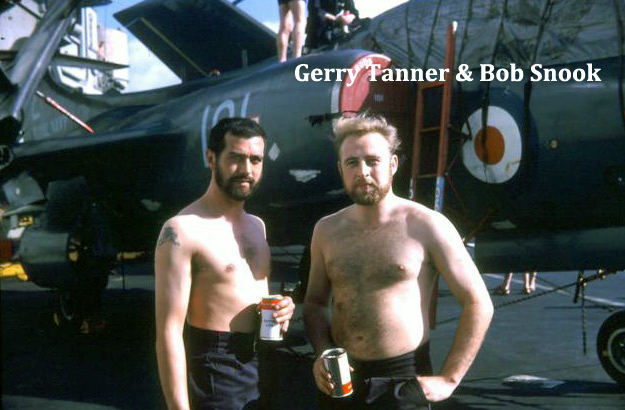 RIP Bob
JACK FOX
We have heard that ex 801 & 809 Buccaneers Squadron Armourer Jack Fox has Crossed the Bar sometime in June, like John Clinch he was also previously a member of 893 Squadron Sea Vixen's and also spent time with C Squadron. Jack left the RN in 1972 and lived in the Greenwich/Lewisham area of London. Members of the Armourers Association are looking to having people at his funeral as he has no known family. Rest in peace Jack.
BUCCANEER 60TH CELEBRATION EVENT AT BRUNTINGTHORPE
This event is just 5 weeks away, if you are thinking of attending to see the fast taxi run by three Buccaneer aircraft and to pop yourself back in a cockpit for that photo you always wanted to take; email Mike Overs at michaelovers@btinternet.com with details of how many tickets you require. They also do a smart range of merchandise (Click on link at main article on this page to view) which you can also purchase via Mike.
JOHN CLINCH
For those not on Facebook; news reached us yesterday 23rd June that John Clinch who was on 809 NAS during the last commission in 1978 had Crossed the Bar in Stockton, Wilts on Friday (22nd). John was well known in the FAA through his time on 809 and previously when he worked at Lee on Solent and even earlier on 893 NAS Sea Vixen Squadron. Rest in Peace John.
ALAN McGURK
We have received the bad news today that ex Buccaneer Engineer Al McGurk Crossed the Bar last Thursday, 17th May 2018. Alan originally worked on the Sea Vixen aircraft and served on 899 Squadron in the Far East from 1967-1968. Many people will remember him from RAF Honington and his time with 809 Squadron aboard HMS Ark Royal during the final commission. In the early 1980's at RNAS Yeovilton he ran one of the deep-strip pits of the Engine Repair Shop fixing Pegasus Engines for the Sea Harrier. Later Alan served on 801 Sea Harrier Squadron.
Alan's funeral was held at Taunton Crematorium on Thursday 31st May with family and a large number of FAA friends to give him a good send off; Dennis Matthews was the Standard Bearer and despite his advancing years made a really good job of it for the family. The family were very pleased with the FAA turn-out, refreshments were held afterwards at the Skylark Inn just up the road in Taunton.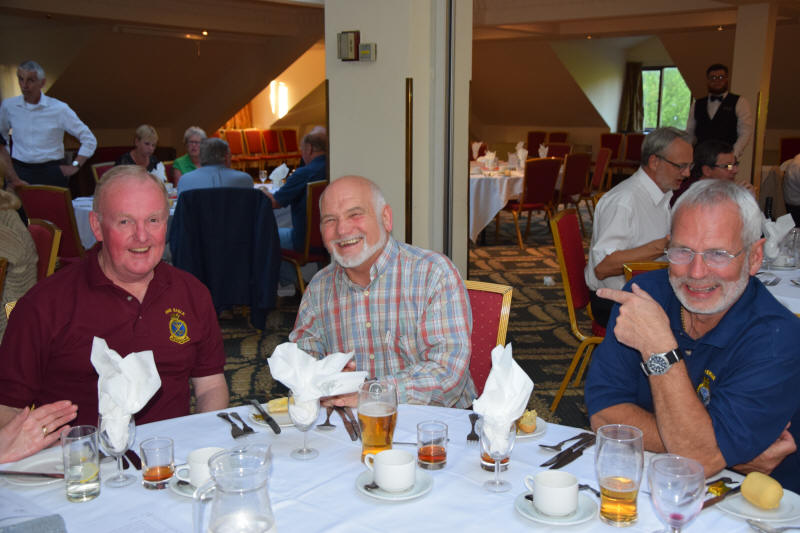 Alan (Centre) with friends at the Buccaneer Reunion held at Market Bosworth in 2015
ADMIRAL SIR JOHN DEVEREUX TREACHER KCB
For veterans of HMS Eagle from 1968 - 1970: It has come to the notice of the Buccaneer Association that former Fleet Air Arm Pilot, Admiral Sir John Treacher, Captain of HMS Eagle from 25 Nov 1968 to 1 Jun 1970 has Crossed the Bar at the grand age of 93. He passed away on the 30th April 2018.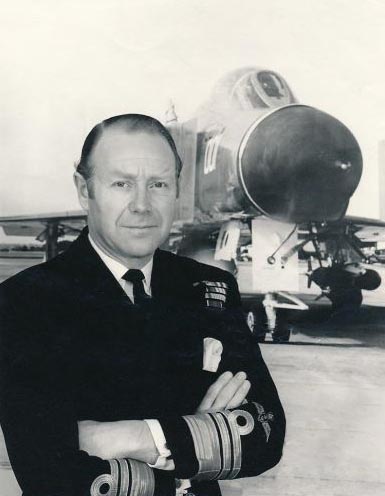 More information at: https://www.telegraph.co.uk/obituaries/2018/05/03/admiral-sir-john-treacher-obituary/
CHARITY RIDE FOR DORSET AND SOMERSET AIR AMBULANCE (DSAA) SUNDAY 13th MAY 2018
As previously advertised on the website Les Smith (FAABA Treasurer) completed the Watchet to West Bay ride (along with 599 other leg weary folks) in support of the Dorset & Somerset Air Ambulance (DSAA) in 4hrs 23mins raising some £300 in support of this worthwhile cause.
Many thanks to those who have already donated and supported him in this event.
His website at www.justgiving.com/les-smith8 is still open for those who may wish to donate or alternatively donations can be given to him at RCH in June.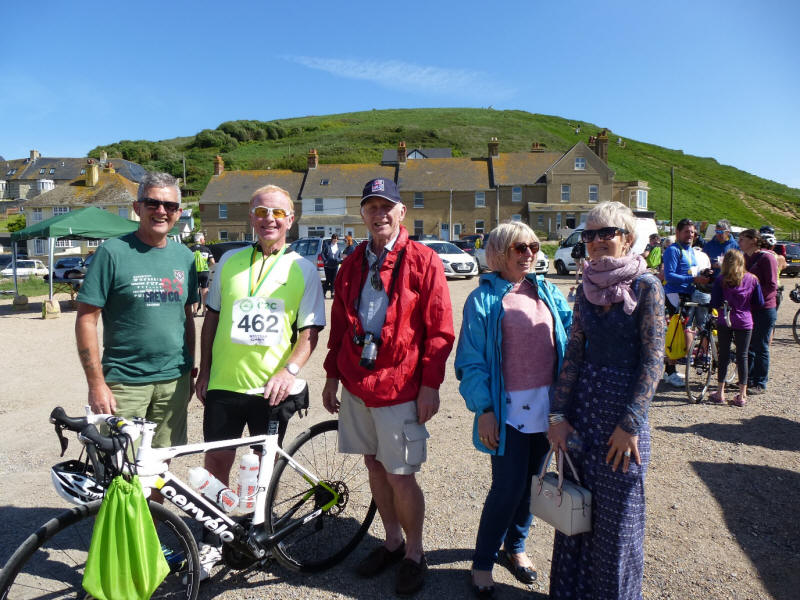 CHARITY RIDE FOR DORSET & SOMERSET AIR AMBULANCE (AGAIN)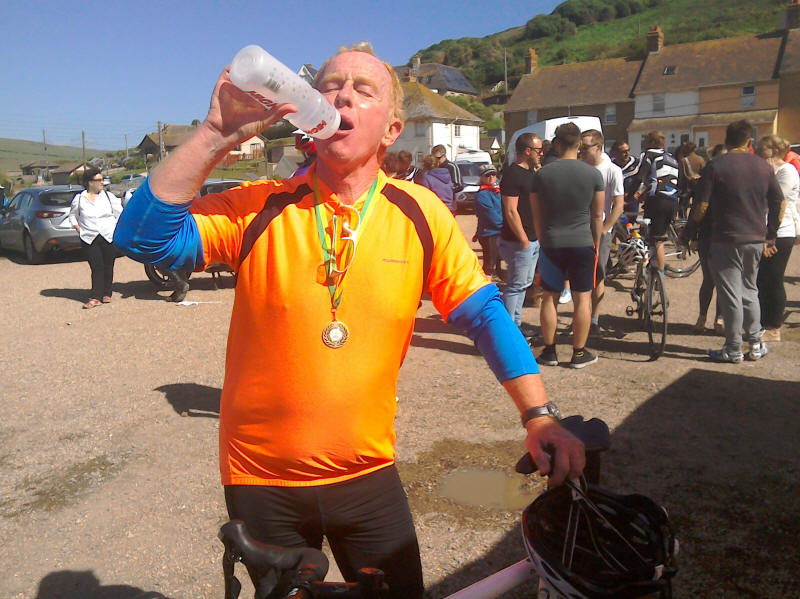 Watchet to West Bay Ride for Dorset and Somerset Air Ambulance (DSAA) Sunday 13th May 2018
Les Smith (FAABA Treasurer) is off on his travels again in support of DSAA and aiming to ride the course again this year. Once again he is requesting FAABA members for sponsorship to help him raise funds for this worthy cause.
(Slight twist planned is that instead of jumping into an "executive saloon" on completion he hopes to add the fun and ride back home - another 30 miles added to the total.)
He has set up a Just Giving site at www.justgiving.com/les-smith8 where donations can be safely and securely made along with all nature of unhelpful, and frankly libellous, comments.
If you can support, each and every donation is gratefully accepted and welcomed.
(Or alternatively, in line with The Treasurers Guide to Good Financial Dealings 2018 version, bulging brown envelopes will be accepted at the Reunion in June!)
Any queries can be directed to him at les.smith779@talktalk.net
60TH ANNIVERSARY OF THE FIRST BUCCANEER FLIGHT
On Saturday 28th April The Buccaneer Aviation Group (TBAG) held an event at Bruntingthorpe to celebrate the 60th Anniversary of the very first Buccaneer Flight, this was Blackburn NA39 XK486. (See XK486 below, being prepared for flight, BAE picture)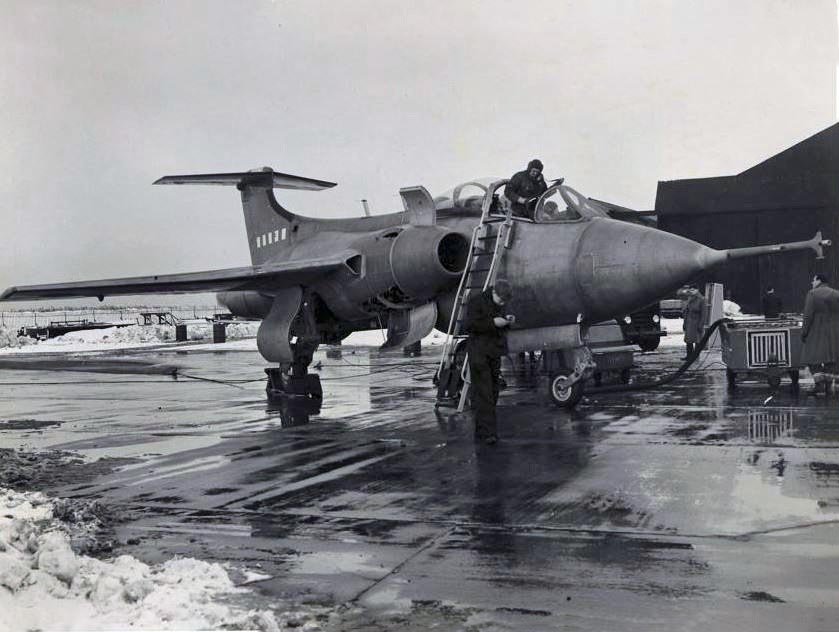 3 old friends from 809 squadron decided to visit and catch up on the site and smell of Buccaneer's operating. A fast taxi run was carried out by 3 Buccaneers.
Brian Stanley, Mick Weller and Chris Lawrence (all ex 809) travelled up to Bruntingthorpe on the Saturday morning arriving just after mid-day, which is when the event started. They said that the Bruntingthorpe airfield is massive with many large static aircraft waiting to be scrapped (Jumbo jets, tri-stars, comets, nimrods, etc). The weather on the day was light rain with a strong breeze. TBAG had erected a very large marquee, with plenty of seating inside, so you could get dry. Also there were several stalls selling aircraft merchandise, and a pilot doing a book-signing session for his newly released book. We have to thank Chris for the following pictures, taken on the day.
Click on the images above to see them full size
RNAS YEOVILTON INTERNATIONAL AIR DAY SATURDAY 7 JULY 2018

You may not know that the team organising the RNAS Yeovilton Air Day in July are offering a discount to UK Armed Forces and Veterans through the Defense Discount Service. For more information read the document available here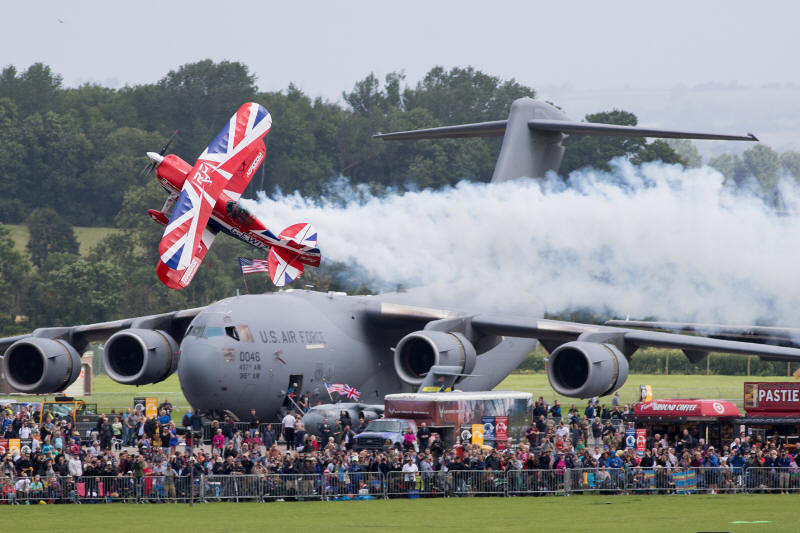 Pitts S-2S Muscle Biplane - Picture by Paul Johnson
DAVE BAIN
The funeral was held on Thursday the 7th September for Dave Bain ex 801 Squadron at Camborne

Crematorium

, Cornwall. A reception was held afterwards at

Helston Rugby Club. Dave also served on 892 Squadron on its last Commission aboard the Ark Royal. RIP Dave.
HARRY BUTLER MBE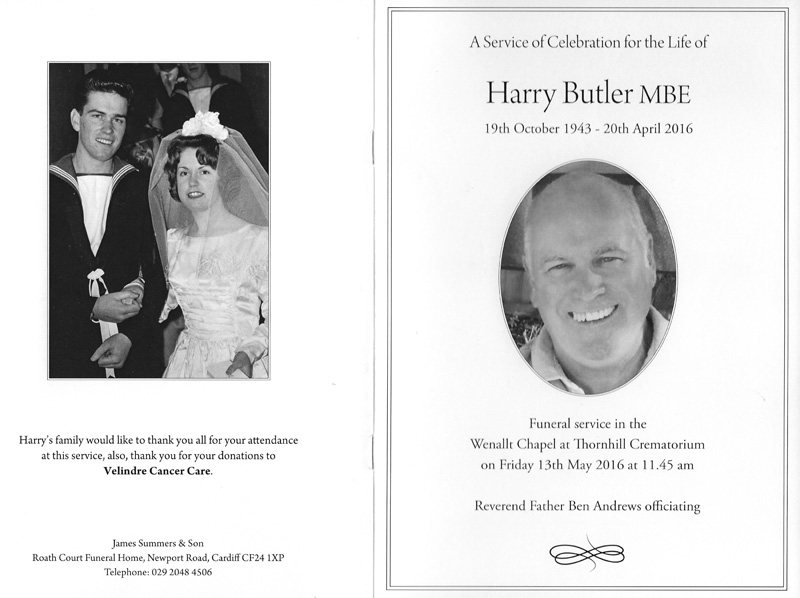 Harry Butler was finally laid to rest today in Cardiff; according to those that attended the funeral, it was well attended by his family and by many of his friends from his Buccaneer & Shar service days. There was also a strong contingent from the Cardiff Royal Naval Association. He was piped in and out and all the way to the grave side with Standard bearers in attendance, the Last Post and reveille was also sounded.
RIP Harry
HARRY BUTLER MBE
Sadly we have heard that ex CELMN(A) Harry Butler Crossed the Bar in Cardiff on Wednesday 20th April 2016, he was a staunch member of the FAA Buccaneer Association and regularly attended reunions. Harry served on 736, 801 & 809 Buccaneer squadrons and was CEA of the RNU at RAF Honington from 1972-1974, he was also SMR from 1976-1977. Harry was also involved with the introduction of the Sea Harrier into RN service.
Harry had two nephews in the FAA (Ian Butler & Colin Dunn) as well as his cousin Alec Dunn who he planned to come with to June's reunion in Elgin, unfortunately he won't be able to join us but we'll raise him a toast.
Harry's Funeral will be in Cardiff on Friday the 13th of May at 11:45, it is at Thornhill Crematorium and Cemetery and will be followed by Internment and a Wake. If you would like to attend please advise Dave Clark (new email address on this page) so that he can advise Harry's daughter Karen on the numbers attending
RIP Harry
COLIN (BOMBER) BROWN
Sad News. Bomber (Colin) Brown has sadly crossed the bar after a short period in St Margaret's Hospice in Yeovil. Colin was a member of the FAA Buccaneer Assn. and attended all the reunions with his partner Marion until he became too ill to attend. His funeral service takes place on Friday 18th March at the Fleet Air Arm Memorial Church, (St Bartholomews) Yeovilton at 11am, followed by burial at Yeovil Cemetery. Family flowers only please but donations in memory of Colin are invited for the UK Soldiers, Sailors and Airmen's Families Association SSAFA and St Margaret's Hospice, Yeovil. All enquiries c/o Eason Funeral Service, 62 South Street, Yeovil. Tel 01935 422883.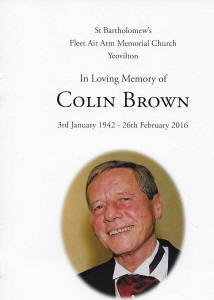 RNAS LOSSIEMOUTH'S BLACK TOT DAY (31ST JULY 1970)

Although Black Tot day is July 31st I thought I'd highlight these photos sent to me today by Gwyn Thomas who was a trainee Mech on 764 Squadron in 1970/71. are you in one of these pictures? Click on pictures to view in full size.
HELP NEEDED TO IDENTIFY OCCASION - WHAT WAS THE EVENT
Pictures kindly supplied by Tony Allen - Click to see full size and scroll to see the pictures in high resolution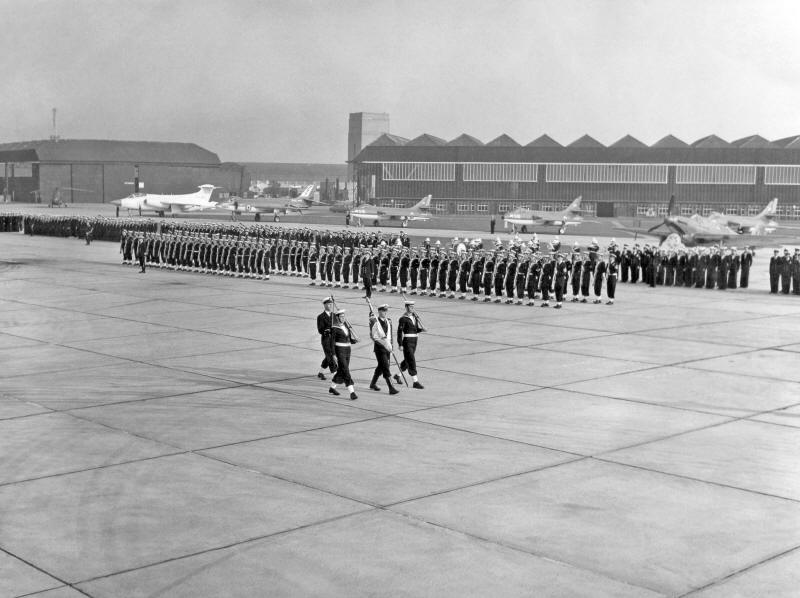 If you know what year this picture was taken at RNAS Lossiemouth please let me know; Phil Glover (email address at bottom of page)
From Sandy Saunderson - I,believe it was 1962/3 738 squadron/736 hardstanding HRH Duchess of KENT, I was on those Divisions!. Geoff Wheatley & Brian Johnston both seem to think it was the award of the Queens Colours in 1963. It's probably a mix of both answers, Queens Colours being awarded by the Duchess of Kent.
It looks to be a Divisions in honour of HRH Duchess of KENT on the 9th of October 1962 when the Queen's Colour was transferred from HMS Ariel to HMS Fulmar. The reason for the transfer of colours is told in "The Fulmar Story", it was required for the State visit of HRH King Olaf of Norway to Edinburgh on 16th October 1962 where HMS Fulmar would be providing the Royal Guard. A Flypast from RNAS Lossiemouth took place over Edinburgh with 6 Supermarine Scimitars of 736 Squadron & Hawker Hunters of 738 Squadron during the State visit.
F35B IN 809 SQUADRON COLOURS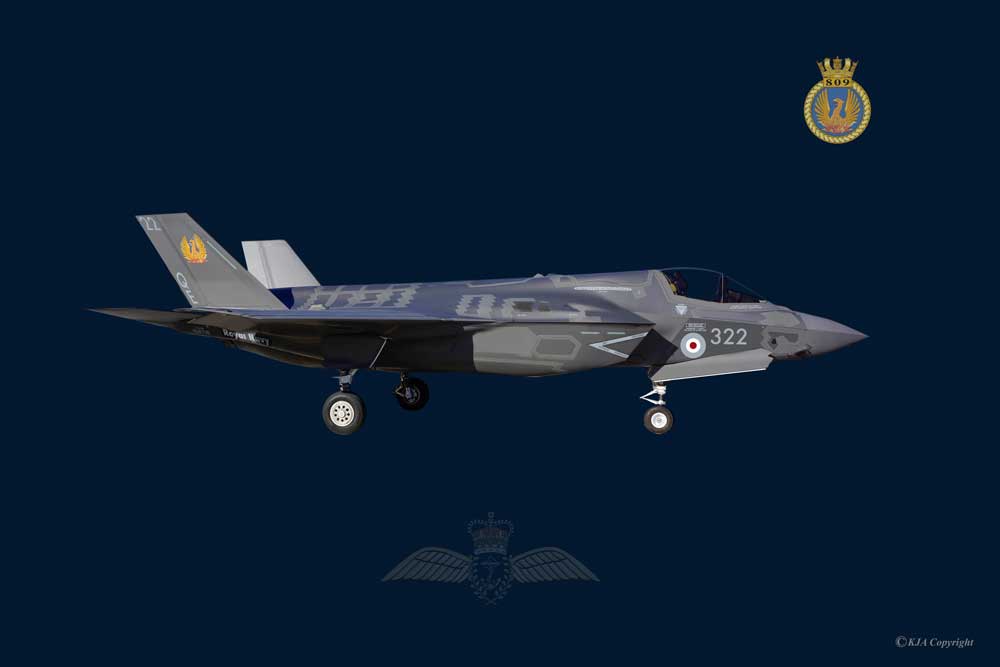 Keith Abnett ex Tiff who served on 700P, 892 & NASU Yeovilton has turned his talents to Art since retiring and has let us display this image of an F35B in 809 Squadron markings; although he's used the side numbers from 809's time on the Hermes 1967 to 1969 it's nice to have the Phoenix on the tail.
REMEMBRANCE SUNDAY - LONDON 2014
Pictures from the Remembrance Ceremony in London on Sunday 9th November 2014 and later at the service held at the FAA Memorial
Click on the above pictures to view them full size, put the mouse arrow over the picture to read the captions
Pictures supplied by Mick Gowen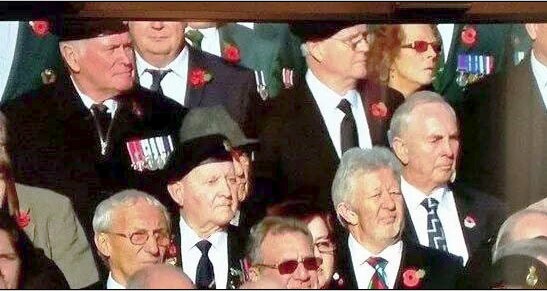 Cenotaph Sunday. Harry and Alex Dunn ( Snapped by #1 Granddaughter (Claire Batten off the TV on Sunday). I think we may have been taking a shufty at Sophia Rayworth doing an interview just to the left of the column.
Picture supplied by Harry Butler
NMA - FAABA DEDICATION - SUNDAY 9TH JUNE

Thanks to Alan Breward's help everything was well organised for the dedication ceremony on Sunday 9th. A coach had been organised to take the bulk of those attending and others arranged to use their own transport and meet there at 12.00 for the ceremony. George Payne took the service with Dennis Matthews and Alan providing the standards.
Click on images to see larger sizes
STANDING ORDER PAYMENT
The Treasurer informs me that someone has paid his fees by Standing Order but the person named on the account "Wendy Carol Steven" does not match the name of any of our members. If you know who this might be (or are the person who paid) can you email Les Smith and update the information so that he can mark the member as "Paid". The email address is at the bottom of this page. Many thanks, Phil Glover
JUTLAND 100 - ACT OF REMEMBRANCE - 31ST MAY 2016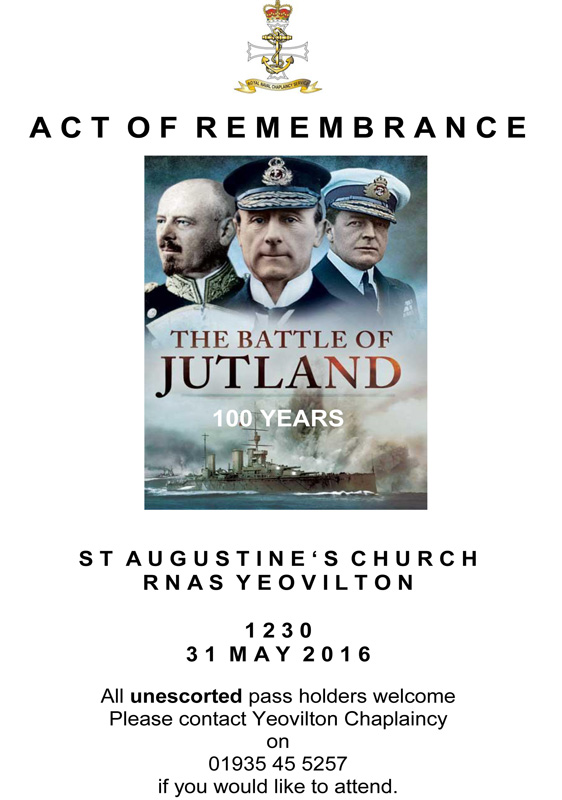 Above is a copy of a poster from Yeovilton Chaplaincy for a Jutland 100 commemoration that will be held at 12:30 on the 31st of May in St Augustines Church at RNAS Yeovilton. Due to the fact that the church is inside the base, the service is only open to those who have an 'unescorted' pass for the base. Unfortunately the Church will not have sufficient manpower on the day to escort visitors to and from the main gate. For those interested who would like a copy of the poster in pdf format, you can download a copy here
BATTLE OF JUTLAND MEMORIAL PARADE - SOUTHSEA 31ST MAY 2016
This Year marks the 100 year anniversary of the Battle of Jutland which was the largest naval battle of WW1. A remembrance ceremony will take place at the Southsea War memorial at 1400 on the 31st May. The parade will form up on Stanley Street, Southsea; it will step down Palmerston Road, the Avenue De Caen & Clarence Esplanade to the Southsea War Memorial on the seafront.
HMS Collingwood and HMS Sultan will each provide one unarmed platoon. Other platoons will be formed from Military Associations and the Sea Cadets.
Units are to dress as follows:
| | | | |
| --- | --- | --- | --- |
| a. | Service Personnel | No 1A's | |
| b. | Sea Cadets | As directed by Sea cadet Corps | |
| c. | Associations | As appropriate | |
| d. | Service personnel not on parade | 1B's | |
Service Units, Association's and Cadets Units are to muster in Stanley Street PO5 2DS, no later than 1300 under the direction of the Chief of Parade (CoP). The RM Band will lead the parade at 1337. Command Orders will be given by parade staff.
For those who are (or wish to) attending the Parade in Portsmouth on the 31st May and who would like a copy of the 'Parade Order' and the 'Order of Service and Programme Booklet' then please contact me using the email address at the bottom of this web page. Phil Glover
JUTLAND 100 - YOUR CALL TO ACTION - MESSAGE FROM RBL
Jutland 100 - Your Call To Action
This year marks the centenary of two battles of national significance during the First World War; the Battle of Jutland from 31 May to 1 June, and the Battle of the Somme, between 1 July and 18 November.
As the national custodian of Remembrance, The Royal British Legion asks you to take part in an event this year to commemorate those who made the ultimate sacrifice in these battles.
You could take part in one of the following national or regional events or run something within your local community.

Jutland 100

The Battle of Jutland was the principal naval battle of the First World War. As such it provides an opportunity to commemorate the sacrifices and contributions made by all those from the Royal Navy, Merchant Navy, fishing fleets, shipbuilding towns and coastal communities who continue to guarantee our maritime nation's security in peace and war.

The following national and regional events are taking place on 31 May to mark Jutland 100.

1. A national commemorative event, broadcast by the BBC, will take place on Orkney, including a morning service at St Magnus Cathedral in Kirkwall and an afternoon service at the Commonwealth War Graves Commission cemetery at Lyness on Hoy.

2. The Royal Navy is hosting events at Portsmouth, Plymouth, Chatham, Belfast (including the opening of HMS Caroline and the Commemoration to the Irish Sailor) and Queensferry on the Firth of Forth.

3. The National Memorial Arboretum is hosting a service at its Naval Memorial at 11am.

Remembrance

We have tried to make it as easy as possible for you to take part or build your own commemorative event. Just download your toolkit for Jutland 100 from www.britishlegion.org.uk/Jutland100.

In the toolkit you will find the following items to help you run your event:
a) The Act of Remembrance, music and readings you could include.
b) Branded material to help you promote your event, including poster.
templates:
. A press release template, to help you generate local interest
. A brief history of the Battle of Jutland
. The story of 'Jutland Jack'
. Stories of LIVE ON beneficiaries

Somme 100

The Battle of the Somme is synonymous with our memory of the First World War. The infamous first day remains the bloodiest day in the British Army's history, involving sixty-thousand casualties, twenty-thousand of whom were killed.

Commemorations will be taking place between 30 June and 18 November to mark the centenary of the 141 days of the battle's duration.

More information and a different toolkit will be communicated separately for Somme 100 by mid-April. The Somme 100 toolkit will be available both digitally
and for order by post.

We really hope that with this support you will be able to run an event that best suits your community.

If you have any questions, please contact remembrance@britishlegion.org.uk.

With best wishes for success in your commemorations.

The Royal British Legion Remembrance Team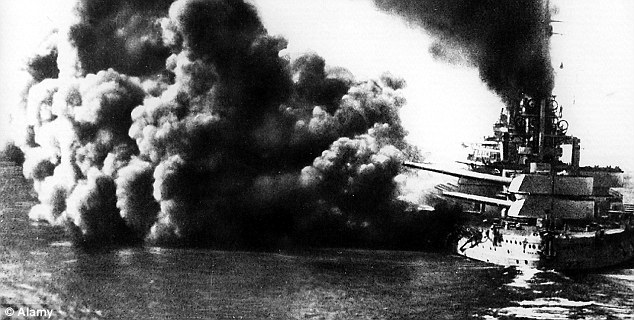 FAABA & FULMAR ASSOCIATIONS JOINT REUNION - ELGIN 3rd - 5th JUNE 2016

Hi Everyone, Details of 2016 reunion. Please note all double rooms have been filled as the response has been fantastic. The FAABA and HMS Fulmar Associations have combined to organise a reunion of anyone and everyone who served at RNAS Lossiemouth or HMS Fulmar in any capacity during it's time either as a Naval Air Station or as a Naval Unit post handing over to the RAF in 1972. It also includes anyone serving with 849 and any RN unit up to 1978. It will be held over the weekend of 3-5th June 2016 at the Eight Acres Hotel, Elgin and we are taking names now as we anticipate a high take up of rooms at the hotel and when we have "sold out" anyone wishing to attend will have to organise their own accommodation. The hotel has only 52 rooms but the function room can take 180 so there is ample scope for arranging own accommodation but still be able to attend the reunion events. The cost breakdown is as follows:

£140 per person includes 2 nights dinner, bed and breakfast and use of hotel facilities.

£155 per person includes 3 nights dinner, bed and breakfast and use of hotel facilities.

We expect that the Saturday night entertainment which will be provided (Subject to final contract) by the 60's and 70's group who wowed the Fulmar club, "Johnny and the Copycats" (Full members only FOC but guests to pay) We expect this to be about £10 but do not have the full costs at this stage.

£8.95 per additional guest catered for Stovies buffet Friday 3rd June, to be served in our Westray Suite. (NON RESIDENTS ONLY)

£30 (inc Ticket as above) per additional guest catered for dinner Saturday 4th June, held in our Sherwood Suite. (NON RESIDENTS ONLY)



On Saturday afternoon Dave Clark has organised a visit to the new RNAS/RAF Museum at Covesea and anyone wishing to go to the top of the lighthouse will be able to do so. I am also hopeful of a visit to the WO and SNCO's Mess at RAF Lossiemouth and ring the toofers bell we presented to the mess in 2008.

Unfortunately we have just learnt that RAF Lossiemouth are holding their Family's day on the 4th June and we will not be able to visit. Additionally the Covesea Museum may not be finished in time and so arrangements are being made for an alternative venue to host the Fulmar Bell until such time as it can be transferred to the Covesea Museum. It will probably still be possible to visit the Lighthouse.

Yvonne Findlay who produced the DVD "Lossiemouth Northern Lights" along with The newspaper "The Northern Scot" are interested in attending our reunion to document the event.

If there is sufficient interest it may be possible to organise a game of golf on the Sunday at a local course overlooking the Moray Firth. If anyone is interested in this event can you please forward your names to myself at finectydave@gmail.com and Brian Sharrock (our Association Events Organiser) at sharrockb@hotmail.co.uk at the earliest opportunity. Do NOT try to book the hotel yourself as we have block booked the entire hotel and arranged a special deal for the weekend.
2. The 75th Anniversary of the Arctic Convoys to be marked at a special event in Liverpool - 31 October 2016
Please note that relevant veterans need to express their interest to the MOD contact (details below) no later than Monday 10 October 2016 (?)
The Ministry of Defence, together with Liverpool City Council and The Royal British Legion are inviting veterans of the World War II Arctic Convoys to a special day to mark the 75th anniversary on Monday 31 October.
A reception at Liverpool Town Hall, with a later invitation to tour a Royal Navy destroyer moored at the city's famous Cruise Terminal, will pay tribute to the many brave members of the Armed Forces and the Merchant Navy who endured that.Winston Churchill once described it as one of the worst journey's on Earth,¯ to help supply the Russian Front during the Second Word War.
Veterans and their families will be joined by Defence Minister, Lord Howe, the First Sea Lord Admiral Sir Philip Jones, and the Lord Mayor of Liverpool Councillor Roz Gladden.
Due to the nature of the event the invitation is only open to British Arctic Convoy veterans and their family member or carer as appropriate. Attendees will need to fund their own costs of travel and any accommodation. Those interested are invited to apply by no later than 10 October 2016 by emailing People-DSSec-CECTAug3@mod.uk
3. Suez Campaign at the NMA, 6 November 2016
The MoD in partnership with The Royal British Legion will mark the 60th anniversary of the Suez Campaign with a Service of Remembrance at the National Memorial Arboretum on Sunday 6 November 2016.
The 1956 campaign involved 100k UK troops in coalition with Israel and France in an invasion of Egypt with the intent of securing the Suez Canal. The offensive resulted in 112 British casualties. Due to the nature of the event, spaces will be limited to Veterans of the Suez Campaign, their carers and close family.
Those interested are invited to apply via an online form at the following link: www.britishlegion.org.uk/suez60. The deadline for applications is Wednesday 19 October 2016. Attendees will need to fund their own costs of travel and any accommodation. For queries, please contact the Commemorative Events Team on Suez60@britishlegion.org.uk or on 0203 053 7216.
NORMANDY LANDINGS - VETERANS AWARD
If members know anyone who took part in the Normandy Landings, (who is still alive), and has not yet received the Légion d'honneur from the French Government then please read on.
Note: the 70th Anniversary was in 2014.
Légion d'honneur for British World War II veterans
In conjunction with events to mark the 70th anniversary of the Normandy landings, the government of France has advised the Ministry of Defence that it wishes to award the Legion d'Honneur to all surviving veterans.
An application form is available for any veterans, including Royal Navy and Royal Air Force personnel who operated in support of the landings, who have not already received this award from the French government, or have not been identified to take part in award ceremonies during the events in Normandy. In the section headed "reasons justifying the proposal", brief details should be given of service in France.
The application form can be submitted electronically to the following address
People-DSSec-CommemAug1@mod.uk
Or by post to;
Personnel and Training - Defence Services Secretary
- Commemorations
Floor 6 Zone C
Ministry of Defence
Main Building
LONDON
SW1A 2HB
The above is a copy of an article on the Mod website. Should you know of any survivors, Male or Female that worked "in support of the landings" then an application form can be downloaded from the following web page link.
https://www.gov.uk/government/publications/d-day-70-application-form-for-award-of-the-legion-dhonneur
CAPTAIN ERIC 'WINKLE' BROWN CBE, DSC, AFC, RN - MEMORIAL EVENT
Following the sad passing of Captain Eric 'Winkle' Brown RN in February this year at the age of 97, the First Sea Lord directed that the Royal Navy would arrange a memorial event.
At the moment full details have yet to be released but the following request has been sent by the event organisers:
The Capt Eric Brown Memorial Event Team are most keen to hear from friends and colleagues of Capt Brown. Invitations to the memorial event will be strictly limited, targeted initially at Eric's friends, aviation colleagues and representatives of his many aviation organisations. If you consider yourself to be in one of those categories please get in touch with Brian Stanley by email at defstan1@hotmail.com and include a short description of your association with Capt Brown.
MICHAEL JOHN (TINY) PORTER
We have been informed that Michael John (Tiny) Porter ex 800 & 809 Crossed the Bar last week. His funeral will be held at 1400 at Yeovil crematorium on Wednesday 22nd March and afterwards at the Manor Hotel. All those who knew him are welcome to attend.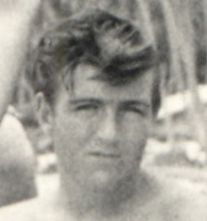 Tiny in the 1960's
KEITH "FRAZ" FRAY
The Buccaneer Association has been informed by 'Fraz' Fray's sister Lyndsey, that he Crossed the Bar on June 29th 2017. In the Fleet Air Arm there have always been those characters that leave a lasting impact, many people will tell you Keith was one of those. From when he first joined 809 Squadron (Buccaneer Mk1's) in the early 1960's at RNAS Lossiemouth as a Junior Naval Air Mechanic, to his adventures in the South Atlantic in 1982 aboard the BT Cable Layer "IRIS"; one of the ships taken up from trade (STUFT) that was fitted with a Flight Deck.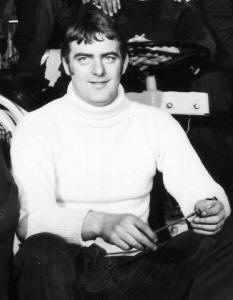 When not on Front Line Service Keith served a lot of his service career at HMS Daedalus; from modifying Hunter's at NATIU to being part of the salvage and transport section of MARTSU (don't ask about the fire in the crewroom) , he will be remembered by all who knew him. RIP Keith, you deserve it.
We have now heard from Lydsey that Keith's Funeral will take place at Portchester Crematorium on Friday 21st July at 15:30, all that served with Keith or knew him are welcome to attend. For directions to the crematorium see; http://www.portchestercrematorium.org/contact/intro.aspx
An online Memorial Page has been specially set up for Keith at http://keith.fray.muchloved.com .Please post your memories or photographs of Keith on this page in his honour; the family would like to thank everyone in advance for their kind comments and memories.
Apparently we had a hyperlink error for the Memorial Page, if you have previously tried and failed to leave a message, please try again.
GEORGE SUNDERLAND

We have been informed that George Sunderland, ex Leading Air Mechanic (AE) on 809 Squadron (1967-68), recently Crossed the Bar. His funeral will be held on Friday 16th June at 10:50 in Nab Wood Crematorium, Bingley Road, Shipley, Bradford, BD18 4BG. All are welcome to attend especially anyone who served with George, it is not expected that he will have any family who can attend.

Glyn Davis & George Sunderland 809 Squadron 1968

Pictures above taken at George's Funeral on Friday (16th June) at Shipley, Yorks. Ex Servicemen who turned up with John Tuke to ensure he had a proper send off. Click on each image to see full size. See also http://www.thetelegraphandargus.co.uk/news/crime/15057711.Fraudster_jailed_for_plundering_elderly_friend_s_savings/
CHARITY RIDE FOR DORSET & SOMERSET AIR AMBULANCE
Les Smith (FAABA Treasurer) completed the D&SAA Coast to Coast course in 4.5 hours on 14th May and this is the very unflattering look you get at the end! (Mind you it wasn't much better at the start!)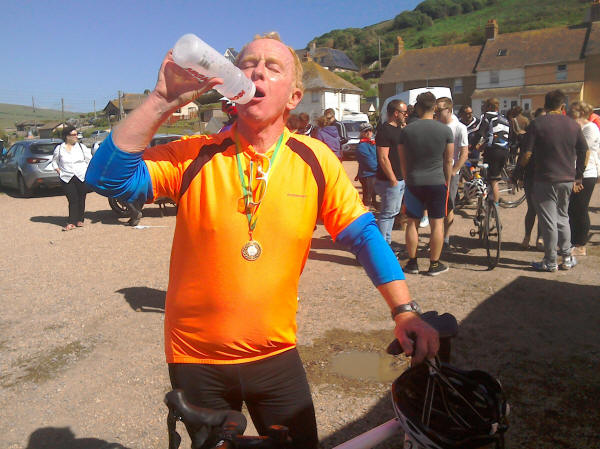 The course is from Watchet (Somerset) to West Bay (Dorset), a distance of 54 miles, he says it was a great event, well organised and well supported. He would like to thank all who have donated for this worthy cause - and to all those that took part for the mutual support to get you through when them there hills looked never ending!! He said that it was well worth it in the end for the sense of achievement and the money raised which goes to a good cause.
With some money still to come in he has raised a total of £350 for the Dorset and Somerset Air Ambulance. Total for all entrants is expected to be around the £85k mark.
If people still wish to donate his Just Giving site, it remains open for now. Please follow this link :-
www.justgiving.com/les-smith809
REQUEST FOR DONATIONS
Les Smith, FAABA Treasurer, is undertaking a charity event to raise funds for the Dorset and Somerset Air Ambulance (DSAA) and is asking if any FAABA members wish to sponsor him in support of this worthwhile cause with donations to his fundraising site.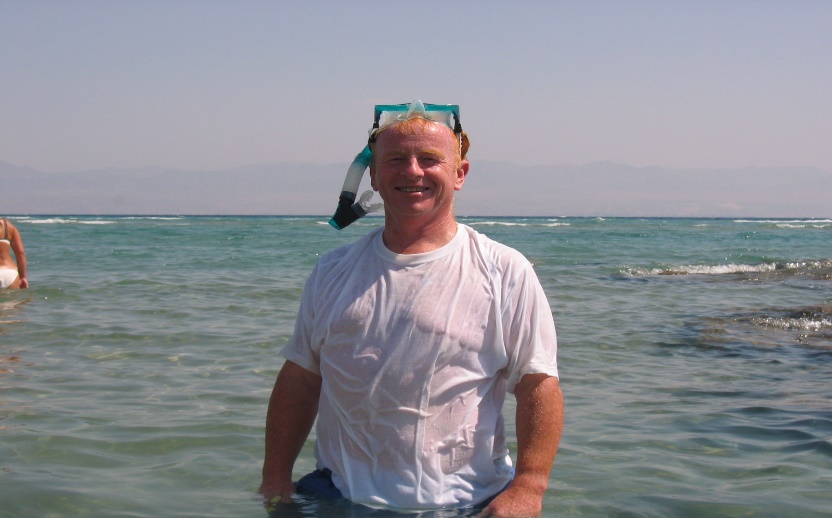 The event is the Coast to Coast Cycle Challenge (C2C) which takes place on Sunday 14th May 2017 covering the 54 miles from Watchet to West Bay.
It is an event where stabilisers must be removed from the bike and so presents a unique challenge for one so cumbersome and untalented. As you can see below it is also a bit crowded at the start……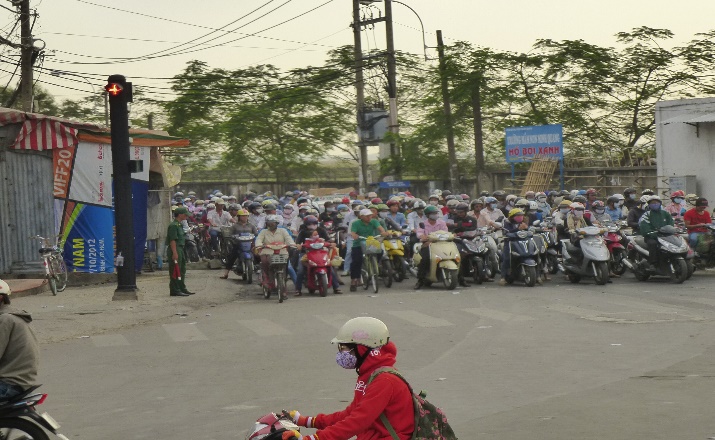 Les has set up a Just Giving website where donations can be made, using Gift Aid if so desired.
Just log on to www.justgiving.com/les-smith809 where donations can be made.
The site is safe, secure and straightforward but if anyone has any problems with it then please contact him as per his details on the FAABA website - les.smith779@talktalk.net
All donations gratefully accepted and messages of an abusive/supportive/downright disgusting nature (delete as appropriate) can be left there for all to see (or not if they are that bad!). Thanking you in advance.
PAT STAGG
The FAABA has been notified that another Buccaneer Engineer (Pat Stagg) who as an AA2 served on 809 squadron aboard HMS Hermes in the late 1960's, has Crossed the Bar. Pat passed away on the 24th November 2017 in Hampshire.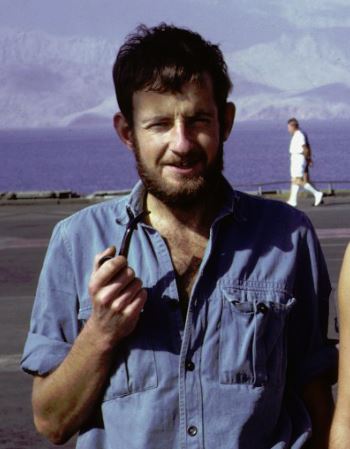 Pat's Funeral will be held at Stubbington Methodist Church at 13:45 on December 6th, the church is at No. 7 Burnt House Lane, Stubbington, Fareham PO14 2LF.
JOHN (JOCK) DUNCAN
I am sorry to inform you that ex REM(A) John (Jock) Duncan ex 800 Squadron 1967-69 Crossed the Bar on 17th December 2017. He passed away peacefully after a long illness at St John's Hospital, Livingston. John served at Daedalus 1965-66, Fulmar 1966-68, Eagle 1968-70, Condor 1970-71 and Bulwark 1971-73.

His funeral is being held at Livingston (West Lothian) crematorium on Monday the 5th of Feb at 4 pm . All are welcome to attend, Rhona Duncan, daughter.

West Lothian Crematorium, Cousland Wood, Starlaw Place, Off Starlaw Road, Livingston EH54 7FD. Tel: 01506 415028. If using Sat Nav they advise using Postcode EH54 7DA as this is more reliable for the actual location. email: info@westlothiancrematorium.co.uk.
JOHN CRAIG (JOCK) SMELLIE
Some of you may know John Craig (Jock) Smellie who served on 800, 809 and 849 at Lossiemouth. He also did spells at Culdrose and Yeovilton during his Naval service from 1955-1978. He crossed the bar in December 2017 whilst living in Morcambe, Lancs.

His son Ron has been in touch with the FAABA. He himself is in poor health, having had a stroke and suffered memory loss. If anyone knew John and has any stories, dits or background info can you please get in touch with me (Dave Clark, finectydave@gmail.com) and I will collate and pass on the stories. RIP John, safe anchorage.
GARY (TAFF) PERKINS
The association has received the sad news that another Buccaneer Engineer, (Gary Perkins) has Crossed the Bar, he passed away last Friday 20th October 2017 after a short fight with the big 'C'. Helen, his wife has advised us that the funeral is on Friday 3rd November at 1330 at Margam Crematorium, Swansea SA13 2NR. Then at the Neath Rugby Club. All welcome.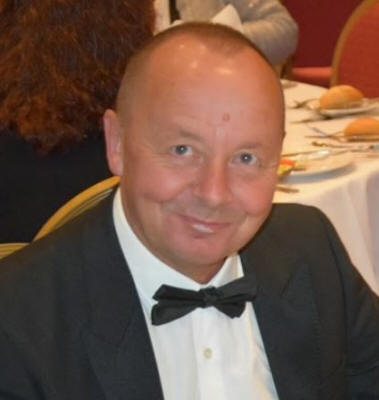 Gary served on 800 Squadron around 1971 on its last commission with Buccaneer Aircraft.
ARCHIE DAVIDSON
We have been notified that Archie Davidson, an Armourer who once served on 736 & 800 Buccaneer Squadrons (and 892 Phantoms) has Crossed the Bar on the 24th September in Gateshead.

Archie's funeral will be held at 15:00 on Tuesday 3rd Oct at Saltwell crematorium in Gateshead for those living in the area who may wish to attend.
Below: Pictures of Archie when he was on 736 Squadron about 1967.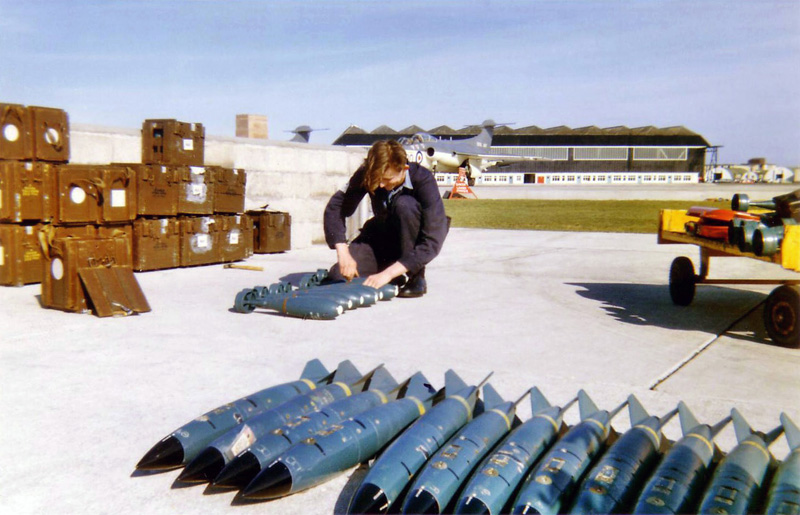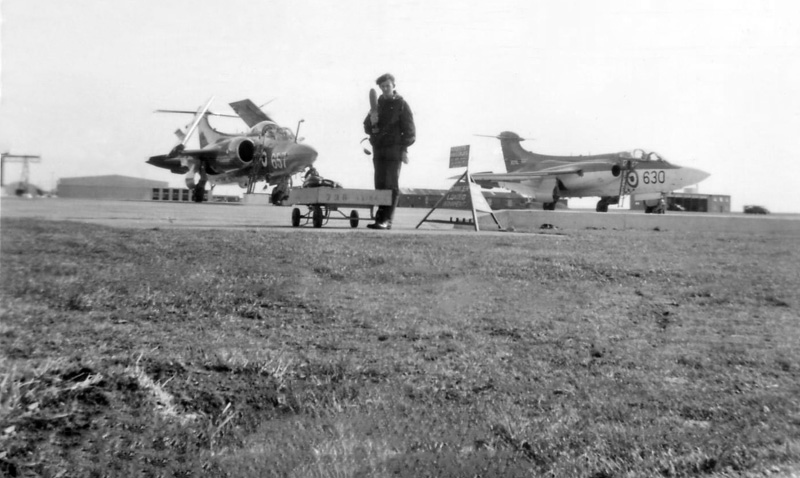 PAUL CRITCHLOW - RIP
Paul Critchlow's funeral will be this Friday (18th May 2018). George McDonald says, "Hi Guys, I have been requested by Paul Critchlow's family if you could let me know numbers who will be attending Paul's funeral on Friday the 18th, so they can get numbers for the meet up afterwards, please let me know soonest. See you all Friday". email philglover@faaba.co.uk and he will pass names to me.
Sadly, the Buccaneer Association has heard that ex 809 Buccaneer Squadron engineer Paul Crithlow has Crossed the Bar on the 21st April in Weymouth; Paul had been in a nursing home for a considerable time after a fall. Previously Paul was very active as a runner and is remembered fondly by his many Navy friends made during his career at HMS Fulmar, on HMS Ark Royal, at RNAS Portland and later at Westland Helicopters. RIP Paul. His Daughter Sue has said "Mum would like his ex navy colleagues to come along if they wish". The Funeral will be held at 1pm on 18th May at Weymouth Crematorium and afterwards at the Turks Head Inn in Chickerell, Weymouth.
TOM BEDDOES / MICK MANTON
For those who served their time in the FAA with Tom Beddoes or Mick Manton there is sad news as both have recently Crossed the Bar. Tom who was a NAM2 on 800 Squadron during the 1964-66 Commission (Mk1 Buccaneer's) and lived in 6H Mess passed away on Sept 11th aged 71 in South Wales. Mick Manton who was a LAM/POAF(O) also on 800 from 1966-68 Crossed the Bar on the 19th September in Somerset. Rest in Peace guys, you will be remembered.
FAABA REUNION - ROYAL COURT HOTEL - 8TH TO 11TH JUNE 2018
If you haven't booked accommodation at the Royal Court Hotel yet, the hotel must receive your form by Friday 18th May at the latest; after this time the hotel will allow any person to book the unallocated rooms, and the FAABA Reunion guest list will have been finalised. The hotel will only add to the FAABA list after the 18th in Exceptional Circumstances.
Booking a room after the 18th May through lastminute.com etc. will not give you access to the reunion for the meal, your meal will be in the hotel restaurant. Additionally late bookers will not be able to get the happy hour prices at the bar as everyone who has booked correctly will be issued with wristbands to obtain these prices.
Pre-dinner drinks (Friday & Saturday) - It has now been decided that we will not offer wine as an alternative to rum at Up-Spirits this year. This means that all those attending the reunion will not be required to pay the supplement for drinks if they are not drinking rum. The hotel will be providing a FREE house wine on the Saturday for those not taking rum.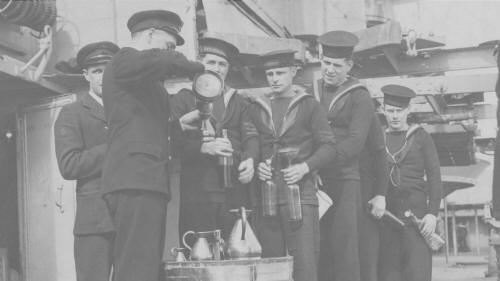 FAABA Members and other CAG groups who intend to come to the Reunion in Coventry are advised that it is only 9 weeks away; if you haven't already booked your room then now is the time to do it. The booking form and full details are available on our dedicated page accessible from the main menu to the left.
2018 - YEAR OF ENGINEERING

Pete Simpson who is currently serving as the OiC of Triumph Squadron at HMS Raleigh which you may well remember as the "Fire School". Pete whilst he didn't serve in HMS Fisgard or HMS Caledonia is very proud of his Artificer training.

He says, you may not know but the Government has marked 2018 as the Year of Engineering and the RN is playing it's part in this in many ways. As the majority of Naval Engineering ratings since WW2 commenced their careers in Torpoint either in Fisgard or Raleigh then it is only right that those there now play their part. To that end on 28 September they will be holding an open day for RN Engineers past and present who joined up in Torpoint. The day will involve a tour of the present Phase 1 training site, a buffet lunch in the WO & SR mess followed by witnessing the Passing Out of a large number of Engineering Technicians. It is also hoped that they will be able to mark the day with the refurbishment and return to Torpoint of the Fisgard Clock which is currently in storage in the dockyard.

If you are a former HMS Raleigh or HMS Fisgard rating and wish to attend this event please contact the Secretary (Robin Harper) by email for more information. Email address for Robin in on the 'Committee' page.
NORMANDY ROLL OF HONOUR / MEMORIAL
From CONA (Conference of Naval Associations) via the Fly Navy Federation
Dear CONA Colleagues,
You may not be aware that The Royal British Legion is supporting the Normandy Memorial which will be inaugurated next year to mark the 75th anniversary of the D Day landings. The Normandy Memorial Trust has spent the last 12 months researching the names of those who lost their lives under British command between 5 June and 31 August 1944. This is a unique collection of names which have never before been recorded and will appear on the British Normandy Memorial soon to be built in Ver-sur-Mer, Normandy.
You can find the Roll of Honour by visiting www.normandymemorialtrust.org
in case you wish to check that the name of an individual is accurately recorded, or to let the Trust have a name that is not on the Roll. All suggestions will need to be submitted to The Normandy Memorial Trust before the end of April, so please pass this communication on to your members, in order for them to have their say before the deadline.
WELCOME TO 2018
We wish all our members a prosperous and happy 2018 and hope they have an enjoyable year.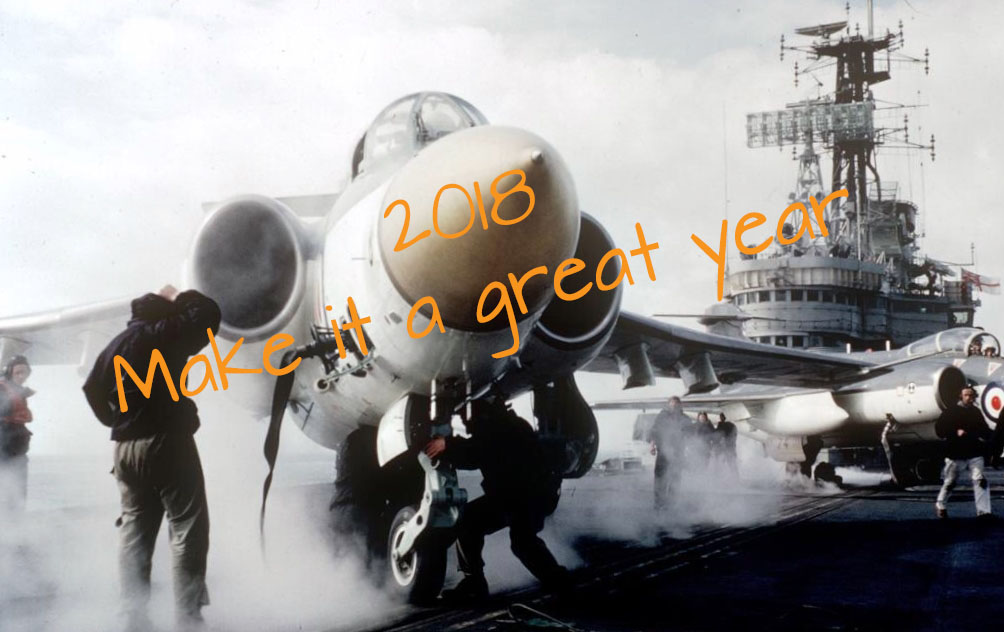 2018 is a significant year for those who served on the last commission of a Cats & Traps Carrier, HMS Ark Royal, 40 years ago in 1978.

We look forward to catching up with those of you still fit enough will join us in June for the 2018 Buccaneer Association Reunion at Coventry, don't forget this is open to all air groups from all carriers and we expect there will be a great atmosphere (see item below).

Sadly we have said goodbye to some more ex Buccaneer squadron members during 2017, some we knew about but probably many others that we didn't, especially as they have migrated far and wide since leaving the Navy. We hope they will be remembered well by those of us still plodding on.
RAF & ROYAL NAVAL AIR STATION HERITAGE AND EDUCATION CENTRE AT COVESEA

FAABA have been notified that they are getting very close to opening the newly built RAF and Royal Naval Air Station Heritage and Education Centre at Covesea. If anyone with past or present connections with the Services at Lossie or Kinloss have any items that they would be prepared to loan or donate they would be eternally grateful.
They are also looking for volunteers that would be prepared to help in staffing the Visitors Centre - past experience is desirable but not essential. It is more important that you have an interest, a bit if spare time and want to meet people.

For those that haven't been to Lossiemouth recently; the Heritage Centre lies next to the impressive lighthouse and near to the caravan park. It is anticipated that the HMS Fulmar Ships Bell will be moved here at some point from the Fisheries Museum on the Harbourside.

The website for the centre can be viewed here: http://covesealighthouse.co.uk/centre.php
CHARITY DONATION TO BLIND VETERANS UK
There was agreement at the 2017 AGM that the money made from the raffle should be donated if possible to a service charity. This was eventually agreed to be "Blind Veterans UK". Members can view the letter thanking us for our donation in the 'members only' area using the "Association Info' button.
60TH ANNIVERSARY OF THE BUCCANEER'S FIRST FLIGHT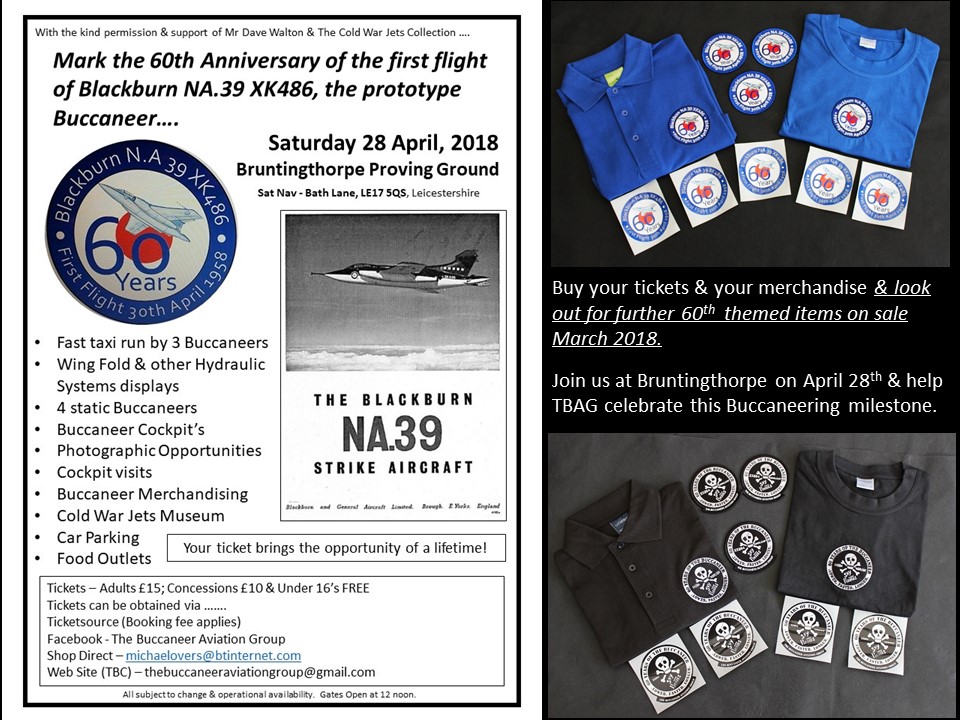 Mike Overs from "The Buccaneer Aviation Group" has sent an updated poster with revised details of the 60th anniversary of the NA.39's first flight (on the 30th April 1958 by Lt Cdr Derek J (Block) Whitehead and his Observer Bernard Watson at RAE Bedford)
This event is being held at Bruntingthorpe Proving Ground on 28th April 2018 with fast taxi-running of three Buccaneers at the airfield.
Check the stock out, new items added 18th February 2018, To buy items contact TBAG ShOps on michaelovers@btinternet.com if
you would like any items or tickets for the 60th Anniversary Event.
BRITISH LEGION - REMEMBRANCE SUNDAY 11TH NOVEMBER 2018
Brian Stanley says "l have just received confirmation of the ticket allocation for the 2018 Remembrance Day Parade", he has asked me to put one final call on the website for anyone wishing to attend to contact him as soon as possible.
'BATTLE'S OVER - A NATION'S TRIBUTE 11TH NOVEMBER 2018'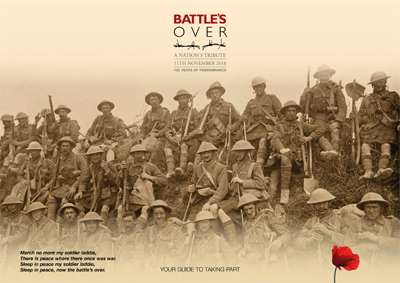 REF: NEW GUIDE TO TAKING PART IN 'BATTLE'S OVER - A NATION'S TRIBUTE - 11TH NOVEMBER 2018'.
Dear All,
We have received this excellent document from the Fly Navy Federation (who received it from CONA) it details the many ways in which the centenary of the end of WWI will be marked on 11 November 2018.

From: Bruno Peek LVO OBE OPR
Pageantmaster
Battle's Over - A Nation's Tribute 11th November 2018

I am delighted to attach the new Guide To Taking Part and would like to thank you all for all the valuable help and support you have so kindly undertaken to enable us to complete it before the original completion date. I hope you all like it too.

Regards,
Bruno Peek
COVENTRY REUNION 2ND - 5TH JUNE 2017

Many thanks to all who attended this year's reunion at the Royal Court Hotel, here are two pictures to view whist we work to get all the pictures on line.

A view of the many members and guests who enjoyed themselves at the reunion.

The Royal Marines Association Dance Band

Note: Click on the images to view at Full Size

VIDEOS FROM THE REUNION

Alan Breward's Friday Night video - Click Here

Brian Stanley's Brutingthorpe Buccaneer Ground Run & Taxi Video (TBAG) - Click Here

VIEW THE IMAGES - CLICK ON PICTURES BELOW

Friday Evenings' Pictures

Saturday Evenings' Pictures

Saturday AGM & Visit to Bruntingthorpe

Sunday at the NMA